The 6th Libya Construction Expo 2023 will be held at Tripoli International Fair from 27 to 30 November, organisers ADD Events report. The event will be the largest annual gathering from all trades of the Libyan building and construction sector, they   added.
This year's event will have the added value of hosting for the first time the co-located events of Libya HVAC 2023, Libya Water-tech Expo 2023, and the Libyan Technicians Forum 2023.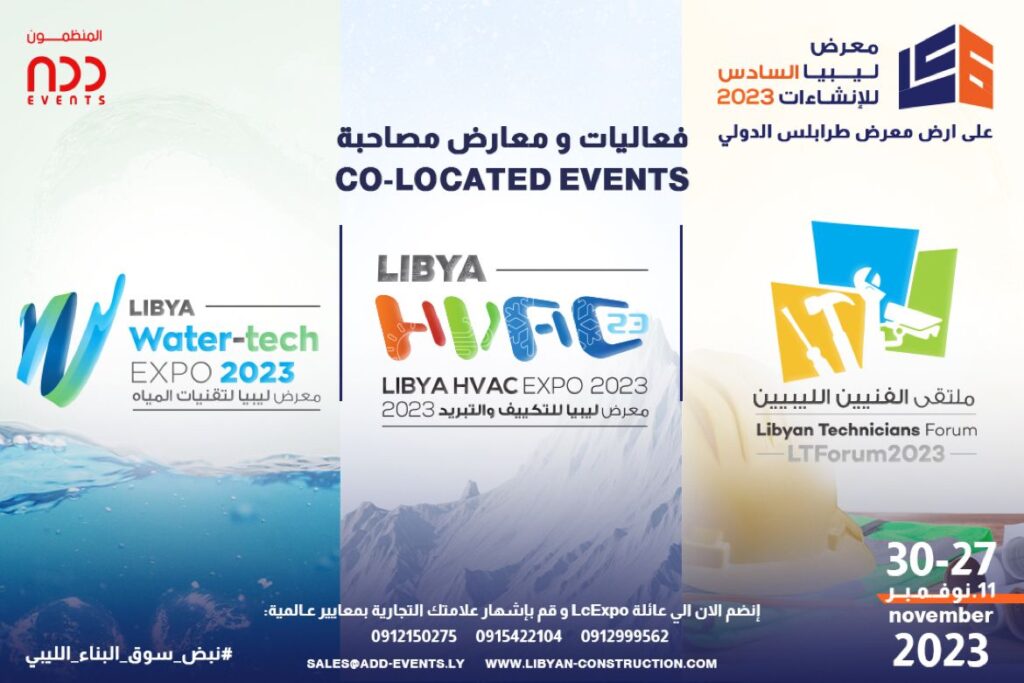 ADD say the event will be full of interactive activities between engineers, architects, suppliers, contractors, technicians and decision makers, providing an integrated platform for business, knowledge and experience, through a series of panel discussions, seminars and workshops.
Libya Construction Expo 2023 is supported by the Ministry of Economy, Ministry of Housing & Reconstruction, the Engineers Syndicate and General Union of Chambers.
ADD says the most important government authorities will be present at the event with their affiliated entities in housing, utilities, transport, and infrastructure, and a large participation from the private sector from international suppliers to local manufacturers and distributors of international brands.
Exhibitors will be divided in sectors: air-conditioning, lifts, plumbing systems and law voltage systems, also from the finishing material sector such as doors and windows, paint, wall claddings, and marble, ceramic and different flooring materials.
More than 300 companies expected
More than 300 companies, from Algeria, Tunisia, Egypt, Turkey, Italy, Saudi Arabia and UAE, will be exhibiting in an indoor area of 6,000 sqm and an outdoor exhibiting area for construction heavy machinery, trucks, and concrete mixers etc.
ADD said the event will give participants a real insight into the Libyan construction sector, to position themselves for the next biggest worksite in the region.
For more information, please visit the event's website: www.libya-constrcution.com